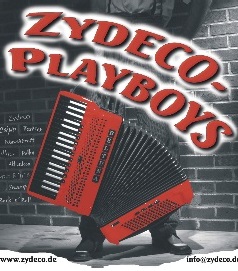 The Zydeco Playboys – a Louisiana- and Down-South-Party!!

Warning! This is high energy music! Consult your doctor before listening to this band; because you´re going to loose a lot of weight dancing to their music. As one of the best rockin´ Zydeco-bands from Europe, they will charge up your soul and put fire under your feet. With their own songs, famous originals from Louisiana and many "zydecoized" cover arrangements they offer you a complete accordion-danceparty.... So get up and shake your bootie!


This bands versatility is constantly growing to meet the needs of an ever expanding public. They started in 1994 with traditional Zydecomusic, then they "zydecoized" rock, blues and cajun. And now they´ve mixed their "sauce piquante" into texmex, latin and rhythm&blues, too! They perform songs from Buckwheat Zydeco, C.J.Chenier, Zachary Richard as well as Los Lobos, Iguanas, Van Morrison, Golden Earring, Ray Charles...



On the guitar is BluesMan Volker Klenner, who is an interesting addition to the "Zydeco-MeltungPot" with his authentic variety of the guitar styles of american roots music.